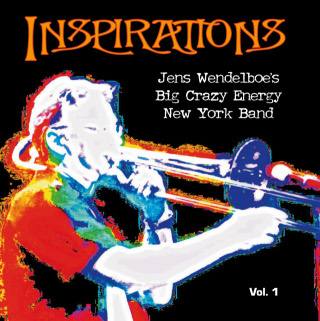 Reviews: Jens Wendelboe's Big Crazy Energy New York Band Vol.1 (Rosa) Midwest records 1/26/10 http://midwestrecord.com/MWR142.html
JENS WENDELBOE'S Big Crazy Energy New York Band V. 1/Inspirations: There's been an awful lot of love in the air for Billy Strayhorn lately, and while we are no one to dis Strayhorn, it's nice to hear a new indy record that kicks it off with some Billy Cobham. Wendelboe revs up what contemporary big band is all about. This is a smoking hot set where everyone gets the chance to turn it up and turn it out. Really rising to the occasion by delivering a set of mostly originals that keep your attention, With 26 years as a pro delivering quality to all quadrants, this is a cat that it's time you got to know. On the money throughout.
Kens Francklin Jazz Notes
http://kenfrancklingjazznotes.blogspot.com/2010/02/cds-of_note_15.html
Big Crazy Energy New York Band, Inspirations (Rosa) Norwegian-born, New York-based trombonist Jens Wendelboe picked the perfect name for his robust band. It is big, it is based in the Big Apple and it has a crazy sort of energy as it works its way through a blend of originals by the leader, three jazz standards (compliments of Joe Henderson, Scott Lafaro and Billy Cobham) and Lennon and McCartney's "A Day in the Life." There's also a beautiful extended rendition (featuring a fiery solo by trumpeter Vinnie Cutro) of the traditional "Dear Old Stockholm", which many jazz players have used as a wonderful improvisation vehicle through the years. My favorite: the band's thorough exploration of the aforementioned Beatles classic. Wendelboe is a great leader and player. He's also a Blood, Sweat and Tears instrumentalist and musical director for disco diva Donna Summer. This is a February 16 release. Grego Applegate Edwards Blogs on Music and Musicians, with Some Attention to Guitarists, Bassists, and other Creative People
February 19, 2010—For many years the contemporary big band has been difficult to keep afloat because of the changed jazz economy. Gigs are scarce these days, yet there remains a need for steady work at a fee that can take care of the larger payroll. Then there are the difficulties of keeping a stable group of right-minded players together throughout the scuffling vicissitudes of day-to-day musical existence. At least since the days of the original Thad Jones-Mel Lewis band, the problem can be ameliorated by getting a steady Monday night gig (normally a musicians' day off), so that band personnel can do their weekly session-gig routines and still be available to play in the band every week. I don't know if the Big Crazy Energy New York Band has landed such a gig but their first (as far as I know) CD "Inspirations, Volume One" (Rosa) has a polish and tightness that can seemingly only come about through a statistically significant number of nights on the bandstand. Trombonist Jens Wendelboe leads the 16 piece band & vocalists through a program of his solid originals and a series of classic numbers from various sources. For example, there's Cobham's "Pleasant Pheasant" done with a full horn treatment that gives one renewed interest in the possibilities of large band Fusion, there's "Dear Old Stockholm," the traditional number made so much of by Miles and Getz, a Joe Henderson classic, and the Beatles "A Day in the Life." The soloists are all quite decent. It's the fullness and tightness of the band and its arrangements that make this program a pleasure to hear. If you like straight-ahead modern big band music, this one is for you!
Track listing: Pleasent Pheasent; Ack Värmland du Schöna (Dear Old Stockholm); Seasons Wander; Boone Dog Café; Out of the Night; Ear Trumpet; I Know, Later (Dedicated to my son, Daniel); Gloria's Step & More; A Day in the Life.
Personnel: Deb Lyons: vocal; Tom Timko: 1st alto saxophone, soprano saxophone, flute, clarinet, bass clarinet, baritone saxophone; Michael Migliore 2nd alto saxophone; Mark Fineberg: 1st tenor saxophone; Joey Berkley: 2nd tenor saxophone; Sam Bortka: baritone saxophone, bass clarinet (10); Bob Millikan: trumpet 1; Steve Jankowski: trumpet 2; Rick Savage: trumpet 3; Chris Rogers: trumpet 4; Dan Levine: trombone 1, euphonium; Charley Gordon: trombone 2; Jens Wendelboe: trombone 3; George Flynn: bass trombone, Tuba; David Anderson: electric bass; Lee Finkelstein: drums; Bill Heller: piano, synthesizer.