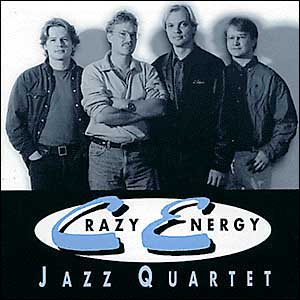 Crazy Energy Jazz Quartet
Buy it now! 
Price:
 $ 15.00 Shipping: $ 4.00
I Love You (Porter)
All the Things You Are (Kern)
Billie's Bounce (Parker)
My Foolish Heart (Young)
Bluesette (Thielemans)
About the quartet:
"Musical virtuosity and eloquence comes from hard work and self-discipline. Hard
work and self-discipline requires mental strength and sanity.
Paradoxically, in today's over-controlled lifestyle the true sign of
mental strength and sanity is a bit of extrovert craziness. When
combined with the enthusiasm and self-confidence that comes from skill
and virtuosity, controlled madness can be the source of great musical
energy. Crazy energy is a rarity, especially in the form of
musical eloquence. When you experience it, enjoy! Here it is."
Erling Wicklund
Recorded at NRK Studio 20
Recording Engineer: Øystein Halvorsen
Recording Producer: Erling Wicklund
Mixing Producer: Javed Kurd
Mixed at Blue Note Studio
Erik Smith plays Yamaha and Zildjian/drumsticks and Beyer Dynamic
microphones
Jens Wendelboe plays a King 2B trombone
Special thanks to Erling Wicklund and NRK P2, to Fred
Nøddelund, Andreas Knispel: Cover, to Javed Kurd, Blue Note
Studio by Per S. Isachsen for the abuse of the studio.