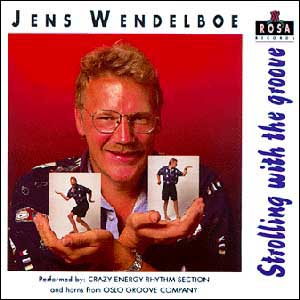 Strolling with the Groove
Buy it now! 
Price:
 $ 15.00 Shipping: $ 4.00
Track List;
Trumpets:    Petter Kateraas, Frank Brodahl,
Rune Haglund, Eckhard Baur
Trombones:    Helge Sunde, Christian
Jaksjø (Euphonium on It just happened), Lars Erik Gudim,
Geir Arne Haugsrud (Bass Trombone)
Saxes:    Harald Devold, Freddy Bagge(alto),
Petter Wettre, Rune Nicolaysen (tenor), Bernhard Seland (baryton)
Tuba:    Sten Cranner (on Fat Brass)
Piano, Synths. & Accordion:    Torge Railo
Bass:    Frode Berg uses Fernander basses and DR-strings
Guitar:    Asbjørn Ruud
Drums:    Erik Smith plays Yamaha Drums,
Zildjian cymbals/drumsticks and BeyerDynamic MicrophonesProducer:    Javed KurdAssociate Producer:    Jens WendelboeRecording Engineer for the Horn Section in NRK studio
20:    Jan Erik TørmoenTechnical assistent:    Øystein
Halvorsen
Cover design:    Fred Nøddelund
Photographer:    Andreas Knispel
This production was made possible by support from Norsk
Kassettavgiftsfond, Fond for Utøvende Kunstnere, NOPA and
Komponistenes Vederlagsfond and Musikk Engros Norway AS. Special thanks
to Per Ola Hagen (NRK), Andreas Knispel, Per S. Isachsen (Blue Note
Studio), Momarkedet, Trond & Trond Management, Asker Community
Big Band, as well as Erik Smith, Frode Berg, Torge Railo and
Asbjørn Ruud from Crazy Energy Band for being a creative
part in making the rhythm track and Harald Devold, Sten Cranner and the
rest of the Oslo Groove Company horn section. At last, a very special
thanks to Fred Nøddelund for cover design and Javed Kurd for
putting up with me for more than a 1000 hours!
All music composed, arranged and conducted by Jens Wendelboe.
Scores and a CD with the rhythm section are available here!,
This production was made possible by
support from Norsk Kassettavgiftsfond, Fond for Utøvende
Kunstnere, NOPA and Komponistenes Vederlagsfond and Musikk Engros
Norway AS. Special thanks to Per Ola Hagen (NRK), Andreas Knispel, Per
S. Isachsen (Blue Note Studio), Momarkedet, Trond & Trond
Management, Asker Community Big Band, as well as Erik Smith, Frode
Berg, Torge Railo and Asbjørn Ruud from Crazy Energy Band
for being a creative part in making the rhythm track and Harald Devold,
Sten Cranner and the rest of the Oslo Groove Company horn section. At
last, a very special thanks to Fred Nøddelund for cover
design and Javed Kurd for putting up with me for more than a 1000
hours!
All music composed, arranged and conducted by Jens Wendelboe.
Scores and a CD with the rhythm section are available at: Crazy Energy
Productions,