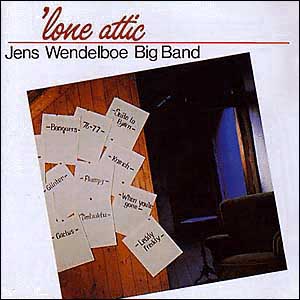 Buy it now!
Price: $ 15.00 Shipping: $4.00

76-77 Electric Trumpet: Fred Nøddelund Syntheziser: Helge Iberg
Timbuktu Electric trombone: Jens Wendelboe
Cactus Guitar: Frode Alnæs Tenorsax,: Knut Riisnæs
Secret Name Electric trumpet: Fred Nøddelund Electric trombone: Jens Wendelboe
Suite To Bjørn*
Altosax: Arild Stav Piano: Helge Iberg Drums: Svein Christiansen Guitar: Frode Alnæs
* Suite to Bjørn won the Nopa`s award Musicpiece of the year 1982
Duo
Altosax: Johan Bergli Piano: Helge Iberg
Made with a solid force of Norwegian jazz musicians, this new printing of
Wendelboe's first album is refreshingly competitive with international
music of the same genre. The sound is fresh, cheeky, rough and brassy;
full of the qualities and energy that belongs to a special composer and
trombonist. It features "Suite to Bjørn" for which Jens was
honored with "The Music Piece of the Year" by the Norwegian
Organization for Popular Authors.
Arranged, composed and produced by Jens Wendelboe
Musicians;
Trumpets: Christian Beck, Fred Nøddelund, Bernt Steen, Ole Edvart Antonsen
Saxes: Johan Bergli , Arild Stav – alto, Knut Riisnæs, Odd Riisnæs – tenor, Vidar Johansen – baritone
Trombones: Tore Nilsen, Harald Halvorsen, Dag Eriksen, Øyvind Westby
Piano & Synth, Helge Iberg,
Bass, Tom Erik Antonsen,
Guitar, Frode Alnæs,
Drums & Perc., Svein Christiansen
Produced by Jens Wendelboe.
Associate producers: Fred Nøddelund and Jan Erik Kongshaug.
Digital CD-mastering: Mikkel Schille, Norwegian Music Productions Ltd.,
1889. All photos: Helene Levánd Cover and booklet design:
Fred Nøddelund, M&N a/s og Madla Hruza
Special thanks to: NOPA, Komponistenes Vederlagsfond, my family, Anne,
Fred Nøddelund, Kristian Lindeman, Helene and all musicians
for making it all possible.
Recorded at Talent Studios by Jan Erik Kongshaug
Both as a friend and teacher, I've had the great pleasure in watching Jens' development through,
I think, an important phase of his becoming one of the most sought after trombone players and music writers in the business.
All the while, I`ve been most impressed by his unique style of arranging sounds on paper. It`s so fresh and cheeky, rough and brassy, full of the same exuberance that characterized his whole personality. Nasty. That`s it. Jens Wendelboe is a delightfully nasty writer. And this is because Jens exudes ENERGY. On all levels. His entire personality seems to be molded around an ever core of pure action. Whether he writes a jazz big band piece or an orchestral composition in a contemporary "serious" vein, he discloses qualities that belong to a very special composer of music. In addition , he posesses the keen ear to employ highly advanced theoretical know-how in
a very personal fashion, and at the same time portioning it out with
the control of means and discipline of a true professional.
Bjørn Kruse The Royal State Academy of Music, Composition Dept. Oslo, March 8, 1983