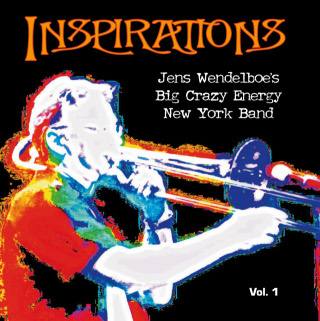 Reviews

Buy it now! 
Price:
 $ 15.00 Shipping: $ 4.00
Track listing:

1. Pleasent Pheasent;
Composer: Billy Cobham
Arranger: Jens Wendelboe
Solos: Mark Fineberg (right side) & Ken Gioffre (Left side) (Ten.sax), Bill Heller (Synth.), Lee Finkelstein (Dr.), Jens Wendelboe (Tbn.)
2. Ack Värmland du Schöna (Dear Old Stockholm);
Composer: Traditional
Arranger: Jens Wendelboe
Solos: Vinnie Cutro (Tpt.), Jens Wendelboe (Voc.) & (Tbn.)
3. Seasons Wander;
Lyrics: Gloria Rosa
Composer/Arr. Jens Wendelboe
Soloist: Deb Lyons (Voc.)
4. Boone Dog Café;
Composer/Arr. Jens Wendelboe
Head played by: Steven Jankowski (Tpt.), Tom Timko (A. sax) & Jens Wendelboe (Tbn.)
Solos: Bob Millikan (Tpt.), George Flynn (Tuba), Tom Timko (A.sax) & Bill Heller (Synth.)
5. Out of the Night;
Composer: Joe Henderson
Arranger: Jens Wendelboe
Solos: Dan Levin (Euphonium), Steve Jankowski (Tpt.), Jens Wendelboe (Tbn.)
6. Ear Trumpet;
Composer/Arr. Jens Wendelboe
Head played by Tom Timko (A.sax)& Chris Rogers (Flugelhorn)
Solos: David Anderson (El. Bass) & Bill Heller (Synth.)
7. I Know, Later; (dedicated to my Son, Daniel)
Composer/Arr. Jens Wendelboe
Lead & Solos: Deb. Lyons (Voc.), Tom Timko (Flute), Steven Jankowski (Flugelhorn), & Jens Wendelboe (Tbn.)
8. Gloria's Step & More;
Composer: Scott Lafaro & Jens Wendelboe
Arranger: Jens Wendelboe
Solo: Bill Heller (Pno.)
9. A Day in the Life;
Composer: Lennon/McCartney
Arranger: Jens Wendelboe
Solos: Chris Rogers (Tpt.), Michael Migliore (A.sax)
Personnel: Deb Lyons: vocal; Tom Timko: 1st alto saxophone, soprano saxophone, flute, clarinet, bass clarinet, baritone saxophone; Michael Migliore 2nd alto saxophone; Mark Fineberg: 1st tenor saxophone; Joey Berkley: 2nd tenor saxophone; Sam Bortka: baritone saxophone, bass clarinet (10); Bob Millikan: trumpet 1; Steve Jankowski: trumpet 2; Rick Savage: trumpet 3; Chris Rogers: trumpet 4; Dan Levine: trombone 1, euphonium; Charley Gordon: trombone 2;
Jens Wendelboe: trombone 3; George Flynn: bass trombone, Tuba;
David Anderson: electric bass; Lee Finkelstein: drums; Bill Heller: piano, synthesizer.
Special guests: Ken Gioffre, tenor sax, Vinnie Cutro: trumpet
Producer & Conductor: Jens Wendelboe
Co-producer: Steve Jankowski
Band was recorded live at KAS music and sound (Kaufman Astoria Studios) in
Queens, New York. May 2008
Assistant Producer at live session: John Lissauer
Recording Engineer: Joe Castellon
Assistant Recording engineer: Andreas Karantzikos
Additional recordings, edits, overdubs and mixing were done at:
Jankland Recording Studio, Wall Township, New Jersey. Year, 2009
Engineer: Steve Jankowski
Mastered at Scott Hull at Masterdisk, NYC
Manufactured and printed by Disc Makers, Pennsauken, New Jersey
The concept:
Having always been moved by the American and British Jazz & Pop music, I thought it would be neat to combine music from composers in these genres who have inspired me throughout the years, with my own style and background as a Norwegian composer. Thus the idea was born to create a CD which combines my orchestrations of great tunes from American and British masters with my own compositions written in the same style. I hope you will all enjoy listening to this music as much as we enjoyed creating it!
This project was made possible with support from the following sponsors:
Tono (Ascap), Norway
Norwegian Fund for Performing Artists (FFUK), Norway
American Music Center (AMC), USA
Norwegian Organization of Popular Authors (Nopa), Norway
Norwegian Music Fund (Norsk Musikkfond), Norway
Komponistenes Vederlagsfond, Norway
Cover Design: Dave Gellis
Cover Photo: Kevin Wood
Additional photos: David Anderson
Painting of Jens at "The Cutting Room":  Susan O'Neill
Thanks!
I am grateful to everyone involved in this production.  Your beautiful and positive attitude from conception to completion has contributed to a fine product and a great experience. Without you all, this production would never have been made possible. Honorable mention goes to:
Joey Berkley, without all these commissioned pieces, this production would never have seen the light of day.
Kevin Wood, thanks for a very capturing photo my friend.
My brother Peter and his family.
Gloria Rosa-Wendelboe (my wonderful wife) for numerous grant applications, logistical support as well as the beautiful lyrics to "Seasons Wander",  and my great kids Susanna & Daniel for always being so patient with me!
Steve Jankowski for the use of your marvelous studio and all the countless hours of knowledge and insights that you have put into this production. Both Deb Lyons and your warm hospitality have made this a very happy experience for me.
Chris Noth & Steve Walter from The Cutting Room in NYC and their staff, technicians and engineers.
Geoff Countryman and his staff who recorded all the live concert sessions at The Cutting Room leading up to this studio recording.
Additional thanks to:
Jay Prince, Joel Rosenblatt, Bill Harris, Matt Gallagher, Birch Johnson, Jim Rotundi, Scott Wendholt, Jack Schatz, Gary Deinstadt, Sal Larusso, Gene Benson, Regent Scott and all those in the Benson Scott Big Band, Erling Wicklund, Stewart Staley, Harold Smick and my other brothers in Blood, Sweat and Tears; Tom Timko, Teddy Mulet, Andrea Valentini, Dave Gellis, Glen McClelland, Gary Foote, Steve Katz, Rob Paparozzi, Frank DeGennaro and Larry Dorr for their moral support,  and to all those who contributed to this creation whose names I may have forgotten to mention.