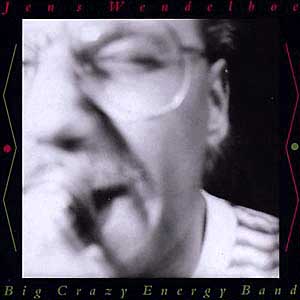 Buy it now!
Price:
$ 15.00 Shipping: $ 4.00
Free Fall Solos: Jens Wendelboe, trombone. Daniel Wilensky, soprano sax. Erik Smith, drums
The end Solos: Asbjørn Ruud, guitar. Erik Smith, drums. Frank Jakobsen, percussion.
Jens Wendelboe Big Crazy Energy BandFeaturing Daniel Wilensky, saxophones – Elisabeth Moberg, vocal.
Conductor, composer, arranger, solo trombone: Jens Wendelboe
Trumpet/Flugelhorn:
David Zalud (lead), Petter Kateraas, Svein Gjermundrød, Jens Petter Antonsen

Saxophones:

Johan Bergly (lead), Georg Reiss, Knut Riisnæs, Vidar Johansen, Rolf Malm

Tombones:

Anders Stengård (lead), Harald Halvorsen, Helge Sunde, Øivind Westby (bass)

Rhythm Section:

Bugge Wesseltoft, Keyboards, Asbjørn Ruud, guitar, Bjørn Holta, electric bass

Erik Smith, drums, Frank Jakobsen, percussion
This project was made
possible by the cooperation of NRK (Norwegian Broadcasting Corporation)
and NOPA (Norwegian Organization of Popular Authors and Composers) with
the support of Norwegian Found for Performing Artists and TONO.
Recorded at NRK's studio 19, Oslo,April 22nd thru May 2nd 1991 on a digital 48 track SONY recorder
Recording and mixing engineers: Arne Kristian Dypvik and Jan ErikTørmoen
Recording producer: Erling Wicklund
Mixing producer: Jens Wendelboe
Jens Wendelboe plays a King 2B trombone with Eventide 3000 harmonizer


Photo: Bjørn Sterri. Cover: Morten Berger Karlsen and Bjørn Sterri
Special thanks to: Jens Chr. Bugge Wesseltoft for arranging suggestions
on the vocal tunes, Erling Wicklund, Pål Bodin, Sigurd Jansen,
Helge Wettre, Øystein Myrvang, Arne Kristian Dypvik, Jan
Erik Tørmoen, Gudrun Gardsjord, Einar Hultberg, SONY Norway,
Danny, David, Elisabeth, all the guys in the band and my wife Gloria for
the tremendous support, patience and understanding it took to make this CD what it is.